About SAYFU
China Quick Turn Prototype PCB Manufacturer GUANG DONG SAYFU MULTILAYER CIRCUITS CO.,LIMITED is a professional high-tech multilayer pcb group especially for, HDI PCB, rigid-flexible pcb,IC Substrate, PCB Assembly.Guangdong Sayfu Multilayer Circuit Co., Ltd. was established in Shenzhen, Guangdong in 2001. The HuiZhou factory in Guangdong started production in 2019. Our factory dedicates to provide quality services for customers with one-stop&high-end PCB manufacturer from R&D samples to mass production. The products include Double Sided PCB, High Multilayer PCB, HDI, FPC, Aluminum Substrates, and Thick Copper PCB. SAYFU has successfully passed international quality system certifications such as ISO 9001, UL (E511658) and ISO14001 environmental quality system. Compared with competitor, we can provide quick turn prototype pcb with high quality, on time delivery, best service, competitive price. With a special market position and excellent corporate culture, Sayfu has been gradually growing up to a group. We can fabricate 1-24 layer rigid board, 30% is rigid-flexible pcb. And combination with customer needs, we also provide customers with value-added services such as Layout, PCBA processing and component purchasing.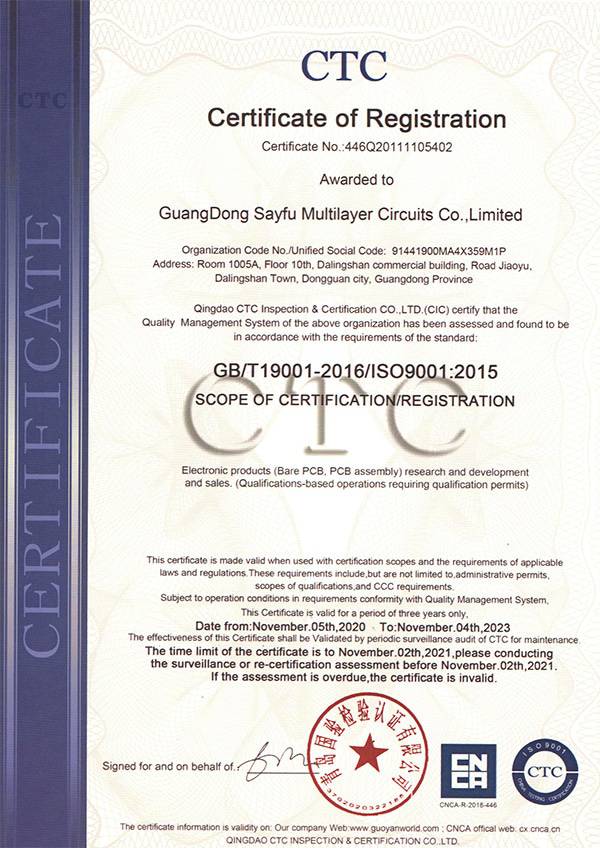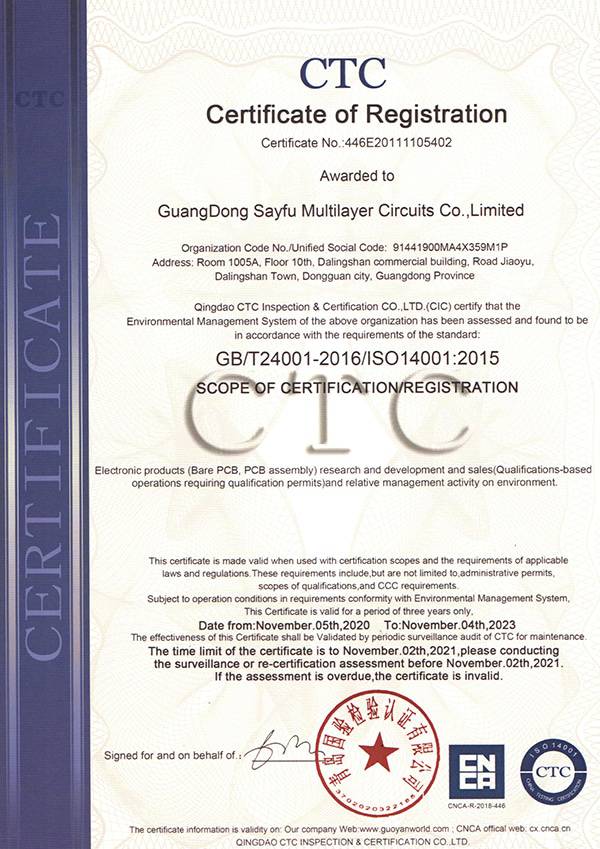 After years of development, Sayfu quick turn prototype pcb company has a large number of senior talents in the industry. And it has created a production and technical service team with excellent compound ability through long-term running-in experience. Now there is 50,000 square meter of plant size with more than 800 professional full time staffs in plants. And the factory has reached 60,000㎡ in the monthly production capacity.
Our products are widely used in: communications, automobiles, power supply, industrial control, instrumentation, security, medical, consumer electronics, computers, military, aviation and other fields. The products are sold to more than 30 countries and regions around the world, more over 90% of our products are exported to Europe, North America and Israel as well as Asia. In 2018, Sayfu achieved a sales revenue 10 million usd, increased 15% than that in 2017. We have been strongly focusing on quality, cost, service, and experienced continuable development.
Fast delivery is our long-term commitment, excellent quality is the cornerstone of our roots in the electronics industry, competitive price is the core of our competitiveness, professional service is the praise from our customers. Sayfu Group is committed to becoming the benchmark industry in China's printed circuit industry, cooperating with world-class customers, through the use of advanced production and R&D technology, constructing a perfect quality control system with high efficiency and low cost, and rationally arranging the PCB industry chain, To become a one-stop&high-end electronics production service expert, and will commit to bringing you a more convenient experience, more intimate service and continuous innovation and progress.
High quality, competitive price & prompt on time delivery are our targets to enable us to be your best partner in business.With the core value of Integrity, Progress, Sharing, Customer&market-oriented, we believe that SAYFU will continue to grow and develop hand in hand with our valuable customers. Our goal is becoming a modern world-wide famous complex rigid-flexible pcb ODM, OEM group, to be the largest pcb factory in Asia.
If you need such a quick turn prototype PCB manufacturer in China, who can make most kinds of printed circuit boards, including FPC PCB, Rigid-flex PCB,metal core PCB, Aluminium based PCB(AL base PCB),HDI PCB, IC Substrate, heavy copper PCB in quick turn for PCB Prototype, please contact us feely.Being China top class PCB factory, we will cooperate with you in fast responding.